NEW BUILD IN SEND
These customers knew they had a fabulous location, but the house was old, tired and not able to provide for their needs and their young family. They wanted a very grand design and a lot of space, but in this part of surrey, there were a number of planning hurdles.
To get the space they wanted and to avoid creating too much of an impact on the neighbours, we incorporated a number of design features:
Provided a stepped roof that minimised the height, but still allowed us to get two double bedrooms and a bathroom into the loft space.
Incorporated a large basement underneath the new double garage, with stairs integral to the main house and access out onto a terrace with steps up into the garden.
Provided a large open hallway and atrium to create space and allow light through the house.
Hover images for more information
This project added over 2300 sq ft to the house and effectively gave our clients a brand new house.
The build incorporated new electrical wiring, including a state of the art home networking and audio/visual system, new central heating system including under floor heating, new windows and doors throughout, all internal decoration, new kitchen, bathrooms and flooring.
CBS landscaped the gardens and driveway, which finished off the external view beautifully.
New Build In Farnham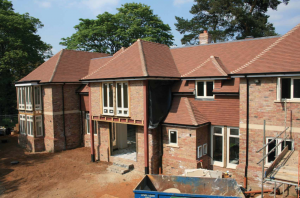 These clients bought an existing bungalow with the sole intention of knocking it down and replacing it with a larger, modern family home (over 500m2).
The location of this plot posed many challenges. Its wide width, but narrow depth gave little space for storage.
The surrounding tree preservation orders also hindered access, thus making the material ordering and sequencing process crucial.
We are the main contractor working with 'Design & Materials' on this project.
Newbuild in Ashtead
This property developer purchased an existing 4 bedroom house with the aim of demolishing it and rebuilding a new modern 6 bed home.
The large open gallery hallway boasts an impressive feature staircase which leads up to the 'bonus' room within the loft.
We are the main contractor on this project working directly for the property developer.